Name: Pietro Maximoff
Age: 25 [Birthday - 14th April]
Gender: Male
Looks: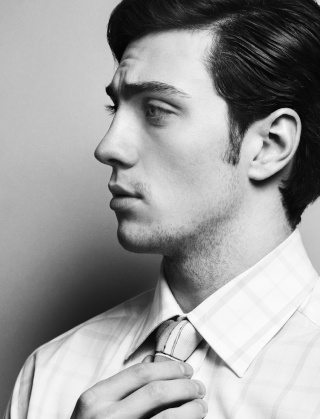 Faceclaim: Aaron Johnson
Sexuality: Bisexual
God Parent: Iris
Powers: He can run at the speed of light thanks to his mother being the messenger of the gods, but only for short bursts as it takes a lot of energy. In recent years he has built up his stamina and can now run for over an hour. He has a lot of control over it and can hide it very well, though when he is angry he collects a lot of pent-up energy which leads to annoying fidgeting.
Family: Twin sister - Lidija Maximoff
Bolshoi Theatre
Relationship Status: Secretly the lover of Alexei Losevsky
Occupation: Bolshoi Ballerina, Olympic Pair Figure Skater for Russia
Place of Residence: Moscow, Russia, Europe.
Highest level of education: Tutoring while training for the ballet.
Years at camp: 0
Backstory: Pietro was born twelve minutes before his twin, Lidija, in the town of Sokovia, not far from Moscow, Russia. The two grew up with their father and 'mother' (they didn't know she was not their real mother). When they were ten, their apartment building was bombed, making the twins orphans. They lay trapped under rubble for two days, an unexploded shell metres away. Eventually they slipped free of the rubble and escaped the ruins of their town, scavenging supplies before trekking miles to Moscow.
Natalia Romanova found them on the streets and took them in, soon realising their potential for the ballet, and later, for ice skating. The Bolshoi Theatre quickly adopted them and they grew up there, barely remembering their past. They always work together in pairs, whether it is on the ice for the Olympics or on the stage for a production.
Last edited by feathertail on Wed Jul 01, 2015 2:51 am; edited 1 time in total
Approver




Posts

: 6312


Join date

: 2015-06-28



I'd prefer if you could make the image a bit smaller but accepted!

_________________
Characters
Logan Henderson - 19 - San Diego - Logan Henderson
Justin Henderson - 21 - New York City - Josh Hutcherson
Daniel Henderson - 20 - Chicago - Max Schneider
Lucas Henderson - 24 - Chicago - Shawn Mendes
Jordan Patterson - 20 - New York City - Cameron Dallas
Jordyn Patterson - 23 - Rio De Janiero - Shay Mitchell
Mikaela Henderson - 20 - Los Angeles - Sofia Carson
Admin




Posts

: 6983


Join date

: 2015-06-23



Sure, I'll have a go. Although I'm on mobile atm so it'll have to be tomorrow...

_________________
Pietro Maximoff ~ 25 ~ Son of Iris
Thomas "Tom" Whittaker ~ 34 ~ Son of Até
Elissa Winchester ~ 20 ~ Daughter of Apollo
Halo Golding ~ 23 ~ Son of Epione
Alexander "Alex" Wright ~ 25 ~ Son of Ichnaea
Derek Shepherd ~ 39 ~ Son of Poseidon
Mark Sloan ~ 33 ~ Son of Aphrodite
Gwâthiôn Rohan ~ 29 ~ Son of Asclepius
Alec Summers ~ 26 ~ Son of Hephaestus
Approver




Posts

: 6312


Join date

: 2015-06-28




_________________
Characters
Logan Henderson - 19 - San Diego - Logan Henderson
Justin Henderson - 21 - New York City - Josh Hutcherson
Daniel Henderson - 20 - Chicago - Max Schneider
Lucas Henderson - 24 - Chicago - Shawn Mendes
Jordan Patterson - 20 - New York City - Cameron Dallas
Jordyn Patterson - 23 - Rio De Janiero - Shay Mitchell
Mikaela Henderson - 20 - Los Angeles - Sofia Carson
Admin




Posts

: 6983


Join date

: 2015-06-23




---
Permissions in this forum:
You
cannot
reply to topics in this forum